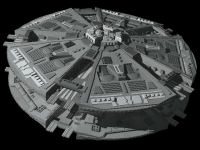 Why is it that the Cylons have gravity on their base stars?  Especially on the old series where they are all complete robots.  Wouldn't it be cheaper to let them just float where they need to go, or use magnets in their feet?
No need to build ladders or anything.
In that same vein, why is there oxygen?  Though maybe they just pump that in whenever they have humans on board.
Something to think about all day, huh?
Peace,
+Tom